Patricia A. Bradley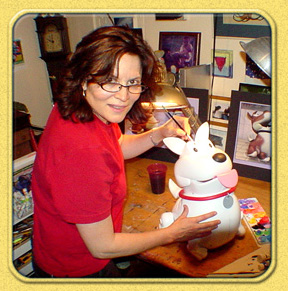 Patricia A. Bradley earned her BFA in Illustration from Rhode Island School of Design with an emphasis in 3D character development. She has 22 years of experience in Design & Development and Toy Invention, as well as extensive Far East production experience. She started as a designer for Hasbro, then grew to Product Manager for Mattel, and became Design Director for Fisher-Price, developing classic brands, such as My Little Pony, Barbie, Cabbage Patch Kids, Disney and Nickelodeon.
Patricia has several passions in the creative arts including film making. She attended New York Film Academy and has created several short films from the point of view of kids and tweens. She is a painter and sculptor, and also has a passion for folklore, story telling and performance art. Patricia also has a talent for commercial voice work and has been the voice in several products ranging from My little Pony to Cabbage Patch Kids to Aquadoodle.
Patricia and Michelle S. Mullen began working together at Mattel on the Barbie brand where they complemented one another's skills and genuinely had fun working as a team. Patricia created the designs and developed product, while Michelle handled the marketing and business development. Eventually, they decided to venture out on their own, and founded Tiger Bleu Productions, Inc. in 1998, The Year of the Tiger. Their vision was, and continues to be, to focus on new product invention as well as creating new brands and intellectual properties for kids through other media, such as books and film.
At Tiger Bleu, Patricia conceives of new toy inventions, executes design and product development, and creates exciting video sizzles showcasing new toys. She is also a Product Management consultant for companies such as Spin Master and Hasbro, aiding in the D&D of their product lines.
"Making toys can be an extremely satisfying and creative career. The best time I've had in business was to align myself with individuals who have no limits, who remain playful yet grounded. No matter what the industry or position, that kind of energy is kinetic, and can result in breakthrough product and meaningful life experiences."


Patricia A. Bradley


Michelle S. Mullen